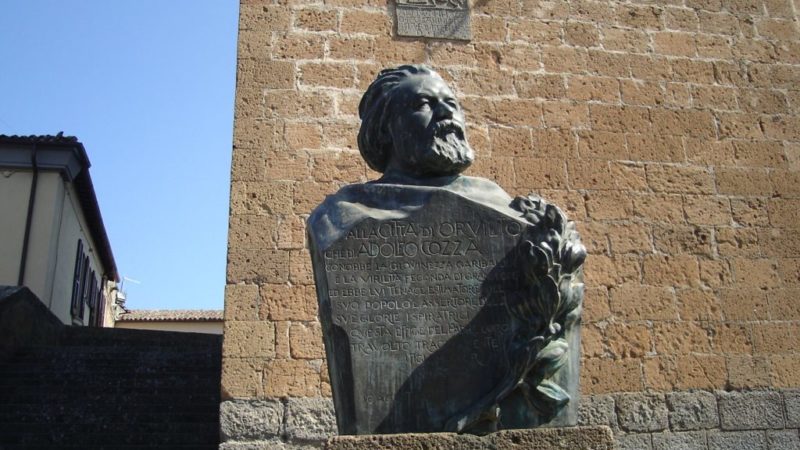 Insight into the novelties that make Orvieto the wonderful place it is today.
The unique dialect, famous people in cinema and fiction, and the history of traditional foods and wines.
Orvietan Dialect

The Orvietan dialect is different from many others in Italy. It has a very specific connotation that partly includes dialects from Umbria, Tuscany and northern Lazio, but at the same time it is very different from the dialects of close cities like Terni and Perugia. The dialect spoken by Orvietans draws from a more informal Roman dialect that is enriched with many other meanings of the terms and is combined with the Tuscan dialects. It is a true blend of multiple dialects originating from the southern part of Tuscany, all of Umbria, and northern Lazio. The Orvietano dialect is quite complex and intriguing but many native Italians from other regions sometimes find it to be difficult to understand.
For those of you who want to learn more and read examples of the Orvietan dialect, we suggest you refer to a blog called:  "Quelli del tufo" Here you can read typical expressions in dialect and linguistic anecdotes of Orvieto.For those who want to do a study on the literary dialect of Orvieto, we suggest the many publications, including the Dictionary Italian Orvieto, and several collections of poetry and folk songs traditional Orvieto.
---
Famous Orvietans
Some public figures, and famous celebrities of Orvieto:
Angelo da Orvieto (1317) – Architect, he worked on the Duomo construction.
Ippolito Scalza (1532) – Sculptor and Architect. His major works in Orvieto are the Palazzo del Comune, Palazzo Simoncelli, Buzi Building, the Statue of the Pieta in the Duomo.
Cesare Nebbia (1536) – Painter. He painted many of the interiors decorations of the Duomo.
Ascanio Vitozzi (1539) – Architect
Cipriano Manente –  Literary historian
Bonaventura Cerretti (1782) – Cardinal
Adolfo Cozza (1848) – Sculptor, engineer, archeological literary. He worked on the project of the first funicular in Orvieto. A bronze monument is located in Piazza del Popolo
Cesare Fracassini (1838) – Painter – He painted many of the interior decorations of the Teatro Mancinelli.
Erminia Frezzolini (1818) – Soprano opera singer.
Filippo Antonio Gualterio (1819) – Important politician
Paolo Zampi (1842) – Architect and engineer.  Worked on the restyling of Palazzo del Popolo and Palazzo Soliano.
Luigi Barzini (1874) – Journalist and Writer. He is dedicated to the annual festival known as Premio Barzini.
Luigi Mancinelli (1848) – Musician and Conductor. He has dedicated his namesake theater in the city of Orvieto.
Giuseppe Muzi (1881) – Engineer. He projected the first aqueduct connecting the city of Orvieto to the  natural springs near Sugano borough.
Pericle Perali (1884) – A man of great culture with expertise from philology, art and photography, and his was a first study of Orvieto Etruscan art and the creation of "Vascellari Art" that allowed the revival of the tradition and the study of ceramics in Orvieto.
Gualverio Michelangeli – Great wooden artisan.
Mario Frustalupi (1942) – Soccer player. He is entitled to an annual youth football tournament, which takes place at the Stadio Comunale L. Muzi.
Anna Marchesini (1953) – Actress and Voice Dubber.
Luca Coscioni (1967) – Italian politician and professor.
---
Movies filmed in Orvieto
Orvieto has always been a special city, with a striking look and beautiful monuments. It has been the backdrop for several important and popular Italian films and TV series:
1920 – Giuliano l'Apostata
1933 – Treno Popolare – di Raffaello Matarazzo
1947 – Vivere in Pace – di Luigi Zampa. Aldo Fabrizi e Ave Ninchi.
1959 – Ciao Ciao Bambina – di Sergio Grieco
1965 – Io la conoscevo bene – di P.Pietrangeli
1970 – Contestazione Generale – di Luigi Zampa. Vittorio Gassman, Nino Manfredi e Alberto Sordi.
1972 – San Michele Aveva un Gallo – di Paolo e Vittorio Taviani.
1973 – La Città del Sole – di Gianni Amelio. Giulio Brogi, Umberto Spadaro e Bedi Moratti.
1973 – Il sergente Rompiglioni – di Piergiorgio Ferretti. Franco e Ciccio
1977 – Una giornata particolare – di Ettore Scola. Sophia Loren, Marcello Mastroianni.
1982 – Delitto sull' Autostrada – di Bruno Corbucci. Thomas Milian
1998 – Tu Ridi – dei Fratelli Taviani. Antonio Albanese, Sabrina Ferilli, Luca Zingaretti.
1997 – La casa Bruciata (serie TV) – di Massimo Spano. Giulio Scarpati, Renato Carpentieri, Chiara Muti.
2000 – Il Bello delle Donne (serie TV). Nancy Brilli, Virna Lisi, Eva Grimaldi, Stefania Sandrelli, Giuliana De Sio.
2006 – La Provinciale (Fiction) – di Pasquale Pozzessere. Sabrina Ferilli, Enzo Decaro, Barbara Bouchet.
2011 – La Vita che Corre (Fiction) – regia Fabrizio Costa. Barbara de Rossi, Franco Castellano, Enzo Decaro.

---
Traditional Cuisine of Orvieto
The Italian tradition of enjoying food and wine is significant to natives and thrives in Orvieto. Old traditions are still prevalent in modern Orvietan recipes (which are always enhanced popular local wines).

The meat has always been of considerable importance in the Orvieto kitchen. Pork is one of the most popular meats, and used it many recipes: prosciutto, sausages, mazzafegati for example.
Poultry, rabbit and game animals are also widely used. Pigeon and dove are among the most classic dishes that can be tasted in Orvieto. The "palomba alla leccarda" and the "pollo alla cacciatore" are two of the oldest and most typical dishes of the city. Wild boar is a unique game animal that is very popular in Orvieto. It is prepared in a variety of ways from sausages, stews and sauces to simply being grilled.
Pasta is, of course, a staple in the Orvieto diet (umbrichelli in particular). Umbrichelli is a typical pasta made solely from water and flour that was invented in the Orvieto area. Umbrichelli, like many other dishes, were invented in difficult times of war when there was a shortage of food and money. A few of the most typical pasta dishes of Orvieto are: "umbrichelli all'arrabbiata" or "umbricelli al tartufo" and "tagliatelle al ragù." Some other traditional dishes of Orvieto are "spaghetti con il tonno" (tuna), "tagliolini con brodo di tinca" (tench fish), and "zuppe di ceci e castagne" (chickpea and chestnut soup).
If you are in the mood for a snack, try "Tortucce", "Lumachella" or biscotti salati all'anice (anise cookies). You also can't go wrong with any of the confectionery traditions common in Orvieto e.g. "tozzetti alle mandorle", "ciambelle al vino" and "pizze di Pasqua" (a bread which can come sweet or salty).
Orvieto is also known for its rich and flavorful olive oil. The hilly countryside around Orvieto offer fertile grounds for the cultivation of olive trees. There are many stores and restaurants around town that sell and cook with local olive oils.
Antipasti (Appetizers)
Bruschetta con olio extravergine di oliva
Crostini di fegato (Liver Crostini)
Affettati locali a base di prosciutto, salami e salsicce secche (local cold cuts)
Lumachelle.
Primi piatti (First Course)
Zuppa di ceci con gnocchetti di patate fatti in casa, aromatizzati al rosmarino (Chickpea soup with homemade potato dumplings, and rosemary)
Umbrichelli all'arrabbiata
Secondi piatti (Second course)
Coniglio a porchetta con finocchio selvatico (roasted rabbit or pork with fennel)
Cinghiale in umido (wild boar)
Contorni (Side dishes)
Gobbi ripassati
Patate cotte sotto la cenere (Potatoes cooked in ashes)
Dolci (Dessert)
Tozzetti con vinsanto
Ciambelle al vino
Zuppa inglese
---
Orvieto Wine
Orvieto has a great tradition of wine production since the Etruscan period. The "Orvieto Classico" in fact, is a world-wide appreciated wine.
The designation DOC is applied to those wines produced in areas (small-medium amplitudes), according to certain production standards.
The wines of Orvieto deserve much praise for being some of the most historically famous in Italy. Orvieto has a wide variety of wineries, small and large, producing several different local blends. Traditional Orvieto DOC wines are mainly produced by blending Grechetto, Trebbiano and Verdelho grapes. Orvieto is mostly known for their white wines, Orvieto Classico and Orvieto Superiore, but also have excellent full-bodied reds made from Sangiovese grapes (Rosso Orvietano DOC).
For lovers of authentic foods we suggest trying any of the following for a typical Orvieto lunch. Don't hesitate to ask the waiters to recommend some local wines to pair with your meal.
According to this long tradition, is not difficult to find wineries and special agricultural producers and wine makers in the surrounding areas and countryside.
Some of the most important wineries also offer special vineyards and cellar visit and wine-tastings.
In the territory another DOC, "Lago di Corbara", a very popular red wine and finally the IGT Allerona, (White Wine in the styles normale, sparkling, sweet and new; Rose Wine types in normal, sparkling and new; Red Wine in the styles normale, Frizzante, Passito and Novello).
From the precious grapes of Orvieto are obtained also excellent spirits, grappa and Vinsanto