Orvieto Train Station
Orvieto has its own train station which is on the important route between Florence and Rome and is well connected with these cities that can be reached in about 1 hour to Rome and 2 hours to Florence.
At the ground floor of the historic building there is a a coffee bar offering the possibility of serving quick meals and, in front of it a taxi stand.
At the coffee bar you can also buy tickets for the nearby funicular, the Orvieto Carta Unica, and bus tickets. For information on timetables and trains visit the national website of Trenitalia (www.trenitalia.com).
---
Orvieto Welcome Info-point – Piazza della Pace (Orvieto Scalo)
The Welcome Point of Orvieto is located in Piazza della Pace next to the large parking lot behind the train station and funicular, and next to the camper area.
It is easily accessible by car following the directions for the local Strada della Direttissima. The Welcome info-point is an starting place for visitors, with a large parking lot (free for cars, and 45.00 euro for tourist buses), bathrooms, and a brand new building (open from March, 9:00am to 6:00pm) with a modern coffee bar, free Wi-Fi and tourist information desk with the following services: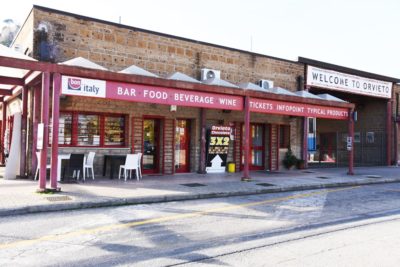 Tickets (funicular, local bus)
City Cards and Maps
Souvenir
Luggage storage service
Typical products
E-bike rentals
Luggage storage service, all days from 9.00 am to 6.00 pm. Upon request there's a possibility to store luggage 24h.
Rates – Luggage Storage service
Large size luggage : € 3,00 per 4 h / € 15,00 per 24 h
Small size luggage: € 2,00 per 4 h / € 9,00 per 24 h
Info